As the executives of the University of Alberta Dance Club, we are committed to helping students and members of the community to experience the world of dance. We plan, host, and execute all social events, dance classes, and other UADC activities in Edmonton. We are the people that you can come to for help whenever you need it. If you are interested in joining the executive for the next year or need general assistance, please contact
info@uadc.ca
.
Jamie Yakimets
President
Hi! I'm Jamie and I'll be your President for the 2023 - 2024 school year. I joined the UADC in March of 2022 after a friend invited me to some (free!) trial lessons right after the COVID lockdowns ended. I thought I might even leave early if I wasn't enjoying it.. but I did enjoy it, so I kept coming back! My major is currently Human Geography, but I'm hoping to switch it to Urban Planning next year. While I practically live in the Tory buildings at this point, I often make the journey across campus to SUB or VVC for club purposes. I think it'd be great that if we built a cable car line connecting HUB and SUB so that we could more easily travel between the two buildings!
Tammy Ausma
VP Internal
My name is Tammy, I am a fourth year Education student, so you can usually find me in the Education building if I'm not studying in the library. I found the UADC at the clubs fair during my year 1 week of welcome and it has been a major highlight of my time at the University. I hope to return to the club as an alumni, though in the meantime I am thrilled to help with planning and organization to ensure that we have multiple weekly opportunities to continue dancing.
George Fei
VP External
Hi, Im George! Im studying Economics and Philosophy and I joined UADC with not a single day's experience in dancing! However, I fell in love with it and made it my goal to learn all the different ballroom dances. Currently, my favourite dance is the Waltz. You'll find me lurking around the Tory Building most of the time, so if you see me come by and say hi! As your VP External, I will make sure to help spread the wonderful word of dance and look forward to dancing with you all!
Lexi Stromsmoe
Treasurer
Hi there! My name is Lexi Stromsmoe and I am the UADC treasurer. I am in my 4th year of the Bachelors of Kinesiology program. In the fall of 2022, I joined the dance club with my roommate and loved meeting all kinds of interesting people while learning new skills and having fun. As the treasurer, it is my responsibility to handle the club's finances and keep the club operating as smoothly as possible. I look forward to dancing with you all!
Akila Edisringhe
Volunteer Director
My name is Akila and I am the current volunteer director. I am in BSc, computing science with a psych minor. Why did I pick this? Well, com Sci for the money and psych cuz I like it. I spend most of my time this year in East residence specifically the international house. I never danced before I joined the club. I thought I might try something new and voila! It was an amazing experience.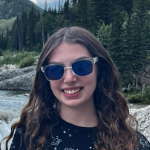 Audrey Murphy
Secretary
Hello, I'm Audrey! I am a 3rd-year Immunology student and will be the secretary for the UADC this year. I joined the club in the fall of 2022 after attending the open house but I have been dancing for 7 years. Looking forward to answering any questions you have about the club and seeing you on the dance floor!
Jie Fan
Social Director
Hi! I'm Jie and I love computers and fitness... two things that don't normally go together! You can typically find me lurking in the engineering buildings, typing away on my computer. Sometimes I emerge from the depths of my RAID array to come dancing with you fine folks, or to serve as Mr. President's personal chauffeur. Alas, I did not emerge with enough time to start my bio, so Jamie was kind enough to write it for me. What an awesome person he is!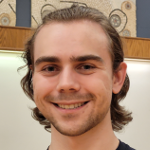 Michael Pekar
Workshop Director
Hi, my name is Michael and I joined UADC in January of 2023. I'll be working as your Workshop Director for the 2023/24 school year. Currently, I am a 4th year student studying for a Major in Psychology. I love to learn all the different dances, but my favorite dance is the Waltz. I decided to become your Workshop Director as a way of getting more involved with the club, and to help spread the joy of dance.
Leanne Watson
Competition Director
Hi, I am Leanne. I joined UADC in September 2022 as a way to meet people in the new city. I currently spend all day every day at Corbett hall and am in my second year of Masters of Science. I am in the role of competitions director as I did competitive dance for many years before joining the club and I thought it would be a fun way to contribute.